Gail Rubin has published award-winning books that incorporate humorous insights into the great themes of life: love and death.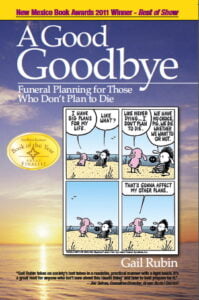 A Good Goodbye: Funeral Planning for Those Who Don't Plan to Die provides the information, inspiration and tools to plan and implement creative, meaningful and memorable end-of-life rituals for people and their pets.
Just as talking about sex won't make you pregnant, talking about funerals won't make you dead – and your family will benefit from the conversation. A Good Goodbye addresses the Baby Boomer generation with gentle humor on the vital information about funeral arrangements that most people don't learn about until faced with a death in the family.
A Good Goodbye will help readers design a meaningful, memorable, healing end-of-life ritual, reducing costs and confusion while avoiding family discord and stress added to grief. It won Best of Show in the New Mexico Book Awards and was a finalist in the Family and Relationships category of the 2010 Book of the Year Award from ForeWord Reviews.
Available at a discount through Amazon.com, BarnesandNoble.com, and direct from Light Tree Press for $21.95 plus S&H.  Order now through our secure online shopping cart:  Add to Cart
KICKING THE BUCKET LIST: 100 Downsizing and Organizing Things to Do Before You Die
Do you ever plan to move?Depending on where you're going, you can't take it with you.  KICKING THE BUCKET LIST shows you how to:
Tackle downsizing without being overwhelmed by the job
Evaluate what to keep, toss, donate and recycle
Creatively remove excess goods from your home
Manage your finances for today and tomorrow
Organize your funeral and create your legacy
The 128-page book, in paperback and eBook formats (to come), is a quick, easy read, with colorful photographs and bonus online information. Each of the 100 Bucket List items include links to helpful internet articles that expand on each point. There's also a handy 50-item Executor's Checklist, guidance for the person who will take care of your after-death details, available as a free downloadable PDF here.
Order your author-signed copies of the paperback version of KICKING THE BUCKET LIST today for $15.95! It's also available on Amazon, which named it the #1 New Release in Legal Self-Help! Order the book on Amazon. Or, order a signed copy: Add to Cart
Hail and Farewell: Cremation Ceremonies, Templates and Tips offers families guidance and ideas for creating meaningful, memorable memorial services after a loved one has been cremated. Co-authored by Gail Rubin, Certified Thanatologist and Certified Funeral Celebrant, and Susan Fraser, respected memorial authority, the book covers:
Why it's important to hold some sort of goodbye ceremony.
A description of the cremation process, so families know what to expect.
Examples of different ways to scatter ashes – more than you'd think!
Stories of creative memorial services in different settings to spark ideas.
Templates to easily create meaningful memorial services.
Sample scripts from actual memorial services to provide inspiration.
Suggested readings, music and online resources for a wealth of meaningful materials to weave into a service.
The book's title refers to the last line of an ancient elegiac poem written by the Roman poet Gaius Valerius Catullus approximately 2,000 years ago. He mourns the death of his brother, who died while Catullus was traveling abroad. Upon his return, he sadly addresses his brother's cremated remains, "… with brotherly weeping. And forever, brother, hail and farewell."
Hail and Farewell: Cremation Ceremonies, Templates and Tips, is published by Light Tree Press. The book retails for $10.00 (plus shipping and NM sales tax as applicable). The book is available at Amazon.com, BarnesandNoble.com, through AGoodGoodbye.com, and on order through bookstores. Discounts are available on bulk orders.  Order your copies today!
A Girl's Pocket Guide to Trouser Trout: Reflections on Dating and Fly-Fishing illuminates the murky waters of the dating pool with insights inspired by fly-fishing lore and techniques.
If men were fish and women the anglers, trout are the good guys women want to land, Other Fish in the Sea the fellows who make their lives miserable. A Girl's Pocket Guide to Trouser Trout helps a woman differentiate between the keepers and the losers and define her own angling style in the hunt for her trophy trout.
This witty, sometimes spicy book dishes information on Other Fish in the Sea to avoid, quality streams to fish (good places to meet good men), leader lines to cast (conversation openers), and natural, artificial, and exotic lures to utilize. What to do when the fishing hole runs dry, prospects for angling in the later years, trouser trout tips, and tall tales of trout landed or lost round out the book.
A Girl's Pocket Guide to Trouser Trout was a top award-winner in the Humor Category of ForeWord Reviews' Book of the Year Awards. It also won first place for nonfiction books in the 18th Annual SouthWest Writers Writing Contest.
Order your copy today!  Only $11.25 plus $3 shipping and handling.   Add to Cart